It was an exciting week we have just experienced as far as market fireworks are concerned. In the previous week, we saw the little market drop after the Fed announcement of an interest rate cut and followed by Trump kicked off trade war battle for another round of tariff hike by 10% against Chinese imported good of 300 billion.
This week started with the Chinese Yuan devaluation of breaking down psychological support of 7 level point. The global market lead by the US reacted with wild crashes. But the crash was interrupted by the China Central bank saying they would not let the Yuan drop too far away. A strong market rebound had happened right after such an announcement. But the US has started to accuse the Chinese government as playing with currency manipulation and technically labeled as such.
Forewarning of Market Move
As I have fore warned in Critical Market Watch Next Week that there will be two major events happening in the following week and they can possibly cause market to react significantly.  True enough, both of these events have contributed to a major market rout for the first time since December 2018.
Every time during the market rout, there always be a valid reason for the massive sell-off. This sell-off is always associated with the global gloom and doom imminently. Those who are keen on reading news and knowing what is going on will always be sucked into such irrational fear and panicking behavior. Very few investors if there are any, who are dared to touch "fire" at the time.
As for me, I looked at the US economic fundamental more than the global event affecting market rout. Therefore I still advocate investing into US market when the large market drop provided us a very rare window of opportunity to enter market cheaply.
Now, the question for us who have taken advantage of entering the US market is possibly what is next? Can the US market continue to grow after China hit back with currency devaluation? What would be the effect of the global market or economy after the US has labeled China a currency manipulator country? Do we still have an investing future?
Investing Future Possibility
I would like to start with the issue of currency devaluation.
In a capital market system, it is very fair that whichever country is doing well, its currency will appreciate over time. Conversely, whichever is not doing well, or having a bad outlook by foreign investors, the currency will depreciate when time passes. This is the most natural development for all free market economies. This phenomenon is fair for all and the best feature of free-market capitalism.
However, this currency free-floating system can be controlled by the central bank of the respective country. This is very important especially during the times when its currency exchange rate experience wild fluctuation. Doing business with foreign countries becomes problematic because of the uncertain currency exchange rate.
Intervention becomes necessary for the stability of the business transaction. Small developing countries often face this currency uncertainty because of big currency schemers were there interrupting from foreign countries. The government, therefore, takes this responsibility to ensure its currency would not be manipulated by these foreign schemers by intervening in the currency exchange rate.
However, when this government intervention is done more often justify, the US as a guardian of free-market policy began to act. Countries such as Japan, South Korea, Taiwan, Germany, Ireland, Italy, Singapore, Malaysia, Vietnam were or are still on the list of currency manipulators.  
The worst scenario or penalty for those designated countries can be the exclusion from U.S. government procurement contracts.  But before this extremity, the US government would normally begin a process of negotiation until reaching a satisfying currency level. In short, the designation has nothing more serious than it sounded.
China as Currency Manipulator
Let's come back to recent China's case of the designation.
As I also mentioned in my previous release that China though verbally said they will retaliate the US for any tariff hike with equal strength, instead of equal quantity because they do not have those import quantities to match up. But those retaliations in the past have never matched up enough "strength" against the US.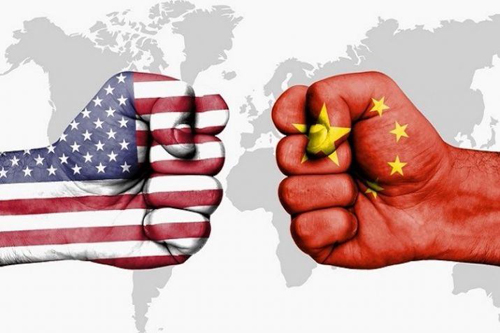 As a reason, I expected in my previous release that China does not have any ammunition to fight back anymore this round of the trade war. Consequently, China has to resolve to take currency devaluation to defense itself.
China's high official has been constantly saying that they will not use currency as a weapon to fight the trade war. But looking at this round, with the front attack by Trump in increasing Chinese import tariff, Chinese currency devaluation is understandable as a natural result because the Chinese economy is under attack. IMF recently also helped justified that Chinese yuan depreciation that China did not manipulate its currency for depreciation.
However, on the other hand, China did not roll out any other measure to fight against the US aside from refusing to buy US soybean, there is no reason to avoid the public thinking that currency devaluation is the latest weapon China indeed employed for the battle.
Looking forward, I believe this trade war will never end. But sarcastically, both countries would probably continue to have a table talk in September. This table talk would possibly just a smokescreen to calm the market. Eventually, when the time comes, Trump would maximize the tariff hike to 25%.
Will the world economy be affected then? None of the global professionals would deny this trade war as the main factor leading to the global economy slow down or the next recession.  However, China economic data showed recently that its export has increased beyond expectation.  So, the reality of the outcome of this trade war is beyond anyone's expectation. But for the US economy, recently quarterly corporate earnings report also disappointed most gloom and doom expectation.  
Conclusion of Near Future
With the US market indexes created historical heights recently, predicting the immanency of the global recession seems a bit odd at this moment. Recession for the rest of the region like Europe or Asian countries could be nearer, but not so soon for the US, possibly not even for China too.
Therefore, the near economic future is still safe to remain invested. Unless economic data shows otherwise or something drastically bad developed out of no way, we shall continue to see the market recover and reaching its original heights.
Happy investing!
Press Here to go to Front Page
Please press the "like" button below this article (if you have not done so) for email alert whenever new releases are out for public viewing. If you have any comments, please make use of the comment section below for readers' interaction.
Disclaimer
The view and opinion expressed are personal views of the author and are subject to change based on market and other conditions. This write up does not constitute sole advice for an investment decision. Investors are advised to do further reading and research to conclude individual decisions.