While most authentic economic experts have been predicting global economy is going to slow down in 2019, however there are peculiar signs showing up last week that this prediction might not be coming true. It has also further verified my view recently released in April Market Watch where global market might be turning into a positive direction.
Equity Indexes Turning New Records
Nasdaq index has once again leading US equity market indexes to breakthrough record reaching new historical height last Thursday, April 25th. The bearish trending fear of Nasdaq market is obviously now being thrown to the rear view. The rest of major equity market indexes are almost at the verge of breaking into new historical heights as well.
The first quarter of US GDP report beating analysts' expectation would have been the most important catalyst that pushed equity market to the positive mood. While many of the corporate earnings reports so far have also surprised many gloom and doom forecasters. All these developments have contributed to the cheerfulness of the US economy. They all said US is not heading towards what most analyst predicting of an economic slowdown in 2019.
US Dollar Strength
Another surprise economic development comes to the US dollar development. While many expected the dollar would be contained within range bound in its movement because Fed keeps the interest rate hike on hold for a considerable length of time. Little did everyone expected that it has broken through gap up jumped into new height since April 2017 last week.
A careful chart analysis earlier would have noticed that the dollar pricing movement (UUP) has actually formulated an Ascending Symmetrical Triangle in the past months. The breakthrough into new height last week would have come naturally expected.
Though the dollars bullish development might anger Trump. Because it makes US manufacturer export harder. On the other hand, it can also invite import rises which could be counter productive to Trump political effort seeking trade balances with his foreign trading partners. But it nevertheless has indicated that the US economy is not going to slow down in any time sooner.
Second Largest Economy Improving
China, as the second largest global economy, was having her fun time last week. Her Belt and Road Initiative Global Forum has invited 36 country top leaders to grace this milestone occasion. Many participants expressed new understanding and more commitment being pledged to this significant global economic growth contribution.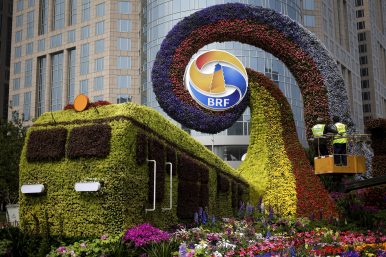 It has ended with more support and with the dollar sense of 64 billion new deals. It has boosted up China's confidence for its future endeavors and defiled fierce criticism from Western countries, especially from the US.
China economy is also picking nicely recently after heavy fiscal stimulus. Many sectors of China market are improving. Most recent data report revealed that China industrial profits pick up in March with 13.9% rise.
Trade War Fear Fading
It looks likely that investors have been already slowly playing down the effect of trade war effect between US and China. As time passed too long, its psychological threat fades into the background. It seems that both sides are playing touch on each other recently, but attentions are not given that much as if in the past.
While Trump has said, deal or no deal for the trade negotiation, US is going to win, however. First of all, without a deal, US will continue to pocket import tax revenue to additional billions of dollars each month from China imported goods. With the deal, it must come from a form where generations of US citizen are going to remember. It's going to be historically significant. While on the other hand, China also releases hint that it is impossible to comply internal structural changes demanded from outside forces.
These developments seem to show us that the world two largest economies are happy to side parted and develop their own alliances and future development. In other words, just like what my blog article mentioned before, the global economic "Great Plates Tectonic Shift" is happening now even without reshuffling through a global recession.
Longest Bull Market
With the negative mentality of global investors are so excessive and widespread, especially fearful about the decadal economic cycle, there might not be any euphoria which can be built up and lead to global economic recession even for the next few years beyond 2021. In other words, the current bull market might be resumed and run up slowly and healthily for few more years ahead, making this the longest bull market in human history.
Now, you may ask, if in case this analysis and projection is true, what should we do as investors? I would say, like the earth great tectonic shift phenomena, there will be earth quakes, volcano eruptions at times. No one knows the exact time and magnitude when it happens. What we can do from now on is to follow the advice of the great China reformist and opening up programmer, Deng Xiaoping's saying, "cross the river by feeling the stones." When you are not sure, especially doing thing for the first time, find out your way carefully step by step.
Happy investing but invest safely!  
PS. Please visit related article at "Is Global Recession Inevitable Coming?"
Press Here to go to Front Page
Please press "like" button below this article (if you have not done so) for email alert whenever new releases are out for public viewing. If you have any comment, please make use of the comment section below for readers' interaction.
Disclaimer
The view and opinion expressed are personal views of the author and are subject to change based on market and other conditions. This write up does not constitute sole advice for investment decision. Investors are advised to do further reading and research to conclude individual decision.